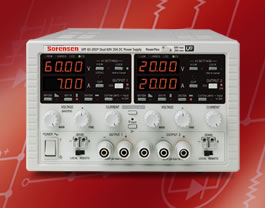 The new XPF60-20S unit is a single output version of the dual output XPF60-20D. It provides up to 60V and 20A within its 420W power envelope, all in a one quarter rack width x 3U height that uses the minimum possible space for either bench or rack mounting. Since the XPF60-20S has manual control, it will most often find use in conventional bench-top use. The Series, which offers both analog and digital control, features easier-to-use analog controls without sacrificing digital stability.
The Sorensen XPF60-20S and 20D outperform competitive units due to Sorensen's PowerFlex switch mode technology design. PowerFlex switch-mode technology generates higher currents at lower voltages within an overall power limit envelope. This is an advantage over traditional power supplies that have a fixed current limit for a power capability that reduces directly with the output voltage.
Users also can select from two other variants of the single output version of the XPF60-20 Series. The XPF60-20SA includes fully galvanically isolated, voltage driven remote control for both voltage and current, while the XPF60-20SP provides duplicate rear terminals and digital remote control. Completing the XPF60-20 Series line, the XPF60-20DP dual output model adds digital remote control. Both dual output models also have small footprints so they take up less space on a crowded bench. All XPF60-20 Series units offer connectivity via GPIB, RS-232, USB, LAN and LXI Class C.
Additionally, the XPF60-20S DC power supply offers both Constant Voltage (CV) and Constant Current (CC) operation with automatic cross-over. The unit offers good transient response, built-in power factor correction, and both load and line regulation. The XPF60-20S DC also offers low ripple and noise — for example at 20MHz bandwidth, typically <2mV rms, <10mV pk-pk, (4mV rms maximum), CV mode. Outputs are forward protected by an over-voltage protection (OVP) trip and reverse protected by diode clamp. Users can easily change the OVP range with a screwdriver adjustable preset on the front panel.
The line's XPF60-20D model is a dual output DC power supply with two completely independent and isolated outputs. The outputs can be wired in series or parallel to achieve up to 120V or 40A within a total power envelope of 840W. Users can set voltages with coarse and fine controls and set currents by a single logarithmic control. An S-Lock (Settings Lock) switches between voltage and current settings and locks them in with a press of the button. This ensures that settings don't drift over time or are accidently changed.
Also, as an alternative to the unit's PowerFlex operation, a fixed range mode lets the power supply work as a conventional power supply with fixed ranges of either 60V/7A or 20V/20A at the press of a button. This ensures the output can only be in CV or CC mode and never in power limit, whatever the load. Another button in the fixed range mode lets users customize voltage and current limits to exactly suit their application.
For more information, please visit product page here.