Product discontinued. Please see new model MV-20/20D
A very small acoustic vibration during operation can indicate a major defect in a small-sized precision motor. The acoustic vibration is normally detected using a sounding bar applied to the ear of an inspector who judges whether to reject or pass a motor by listening to its sound during operation.
This method produces different judgments according to each individual inspector, and automation is not possible. With this unit, a highly sensitive acceleration-type detector is applied to the bearing area of a motor, to directly defect the acoustic vibration.
The resultant measurement is not influenced by environmental noise, and an absolute and accurate measurement can be made. Automatic judgment of whether to reject or pass a motor is also possible by incorporating an optional comparator.
Product Description
The acoustic vibration is detected directly by an acceleration detector.
Consequently, the measurement is not affected by environmental noise.
The result of the measurement is displayed on a meter and sound signals are reproduced using a wide range loud speaker.
A frequency filter is incorporated to allow selection between full, high and low range frequencies.
Incorporating a comparator makes automatic judgment of reject or pass.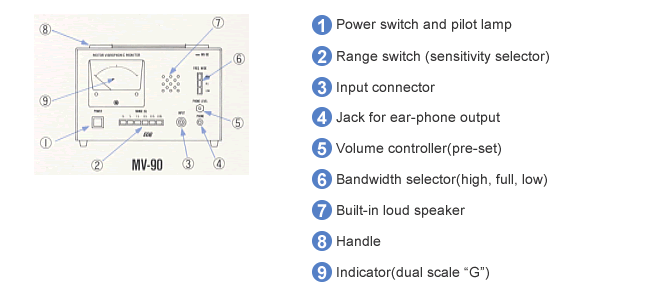 | Base unit | |
| --- | --- |
| Frequency range | 3 selectable steps |
| 1.Full bandwidth | 15Hz~10KHz |
| 2.Low range | 15Hz~1KHz |
| 3.High range | 1KHz~10KHz |
| Acceleration range measured | 0.05G~10G(6 RANGE) |
| Output (external output) | 150mWrms max. (at 4Ω) |
| Frequency characteristics | 20Hz~8KHz(±0.5dB) 15Hz~10KHz(±1.0dB) |
| Filter characteristics | -12dB/oct |
| Operating temperature/humidity | 0℃~60℃ 30%~90% |
| Power source | AC100V ± 10% 50/60Hz |
| Power consumption | 70VA max. |
| Dimensions of main unit | 200W×130H×150D |
| Detector | |
| Detection method | Piezoelectric acceleration system |
| Electric charge sensitivity | Ca. 100PCMB/G |
| Resonant frequency | 20KHz min. |
| Operating temperature/humidity | -10℃~80℃ 0%~90% |
| Option | |
| Comparator setting system | Window comparator system |