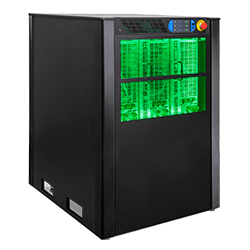 The California Instruments Sequoia Series combines intelligence and flexibility with high power to create an advanced platform of AC solutions. Using a state-of the-art SiC power switching architecture, this full four quadrant product combines compactness, robustness, and functionality in a floor-standing chassis.
This easy-to-configure power product covers a wide spectrum of single and multi-phase AC or single channel and multi-channel DC power applications at an affordable cost. With the add-on electronic load option, the Sequoia Series can support additional advanced renewable energy simulation and test requirements.
Product Description
Features and Capabilities:
Dual Voltage ranges that support over voltage testing on 480V based systems
Instrument Setups for quickly re-establishing the known instrument state
500uS time resolution for Transients
Virtual Panels control software included
Non-Linear current waveform programming during Load mode
Phase coordination among multiple units (LKM/LKS)
Powerful set of analog controls for PHIL and Modulation tests
Trigger In & Out to permit extensive coordination with external systems
Extensive Onboard diagnostics
Digital I/O, including RS232, USB, Ethernet (GPIB optional)
Intuitive 5" color display for ease of navigation
Auto-paralleling for maximum flexibility with multi-chassis configurations
Separate terminal blocks for single phase and 3 phase outputs
Simple Operation
The Sequoia Series can be operated completely from its menu driven front panel controller. The full color-touch display shows menus, setup data, and read-back measurements. USB and LAN remote control interfaces and instrument drivers for popular ATE programming environments are available. This allows the Sequoia Series to be easily integrated into an automated test system. With the programmable arbitrary waveform generator, the user can generate application specific waveforms, obtain time and frequency domain measurements, and capture actual voltage and current waveforms.
Configurations
The Sequoia Series offers five single chassis configurations: 15kVA, 22.5kVA, 30kVA, 45kVA and 90kVA. For higher power requirements, multi-cabinet models are available. These systems offer Reflex capability, allowing flexible user reconfiguration as needed. This ability to reconfigure the system greatly expands your test coverage and is not commonly found in power systems.
Choice of Voltage Ranges
The Sequoia Series offers dual range 0 – 166V & 0 – 333V line to neutral direct coupled output. These models provide a maximum 3 phase output capability of 287 VAC & 576 VAC line to line respectively. For applications requiring more than 333 V L-N (or 576 V L-L), the optional -XVC440 output transformer provides an additional 0 – 442 V L-N and 0 – 766 V L-L output range for use in AC mode only. For custom applications the user defined XVC option is available.
High Crest Factor
With support for high crest factor loads, the Sequoia can drive difficult nonlinear loads with ease. Since many modern products use switching power supplies, they tend to pull high repetitive peak currents. The SQ30 with a crest factor rating of 4.5 for example, can deliver up to 300 Amps of repetitive peak current (166 V AC range) per phase to handle three phase loads. Refer to the specifications for peak repetitive currents for each model.
Remote Control
Standard RS232C, USB, and LAN, along with optional IEEE-488 remote control interfaces allow programming of all instrument functions from an external computer. The popular SCPI command protocol is used for programming.
Hardware In the Loop
The External Drive (-EXTD) feature allows external analog signal control of the source while in AC operation, turning the source into a high bandwidth amplifier. Most common applications include hardware in the loop (HIL) simulation of power plants, hybrid electric vehicles, and renewable energy generation and their effect on the utility grid. Combining an HIL simulator with the Sequoia grid simulator results in as little as 100uS delay, meaning the overall solution is real time.
Testing Applications:

Power Conditioning Equipment Testing
Grid Interactive Green Energy & Distributed Power Generation
Avionics & Shipboard Electronics Testing
Regulatory Compliance Testing
Electric Vehicle (EVSE, V2G) Testing
Manufacturing Line Testers
Advanced Renewable Energy Simulation and Testing
Regenerative AC/DC eLoad
Among the optional configurations is the programmable, regenerative electronic load mode. Designed to provide precisely controlled non-linear loads for testing AC power generation equipment, the Sequoia Series load mode can accurately simulate real world load conditions, including high crest factor and variable power factor loads.
Traditional loads use resistive load banks. This approach does not simulate real world conditions such as switching DC/AC converters found in many AC powered products, nor does it fully exercise the equipment under test (EUT) under worst case operating conditions. High peak currents and low power factor loads can significantly impact the operating characteristics of a UPS or AC power product.
Sequoia's optional eLoad mode can simulate real world load conditions that can significantly increase product reliability while minimizing energy costs by regenerating the load current back to the utility mains.  Modes include: Constant Power, Constant Impedance, Constant Current.